EASY TO FIND –
HARD TO FORGET
Not far away from the center of Innsbruck, Igls is situated at 900 meters above sea level. It is a village and city district in one. A bit away from the hustle and bustle of city life, our Bon Alpina is still close enough to the center for urban exploration. A bus leaves right in front of our hotel every ten minutes (weekends 15 minutes). With the Innsbruck Welcome Card, you can use it for free. For those who like sports and nature: The Patscherkofel hiking and skiing area and Innsbruck's local mountain, is just a few minutes from the hotel.
The ideal location between Bavaria & South Tyrol makes Innsbruck an international hub, also for rail traffic. Trains reach Innsbruck almost every hour from all directions. With the busline "J" you can reach our hotel from the center of Innsbruck in about 15 minutes. You can also reach us in about 15 minutes by cab from Innsbruck's main train station.
Arriving from the east or west: Take the highway exit "Innsbruck Mitte – Zentrum". At the traffic circle take the exit "Vill-Igls" and follow the "Igler Bundesstraße" for 3.7 km until you reach the center of Igls. There you turn onto the street "Hilberstraße" and after about 200 m you have reached your vacation destination: Hotel Bon Alpina.
Arrival from the south: Take the highway exit "Patsch-Igls", turn right, then turn right again and follow the signs "Patsch/Igls". Via the "Patscher Landesstraße" (L33), follow the direction to Igls and you will reach the Hotel Bon Alpina in approximately 10 minutes.
Some international airlines fly directly to Innsbruck. From the airport you can easily continue by cab. Travel time depending on traffic: Approximately 15 minutes.
THIS IS HOLIDAY. LEAVE THE CAR AND REACH EVERYTHING BY BUS. SUPER ORGANIZED.
HENRIETTE, AMSTERDAM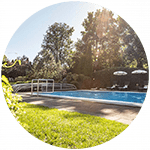 THE BUS STOP IS DIRECTLY IN FRONT OF THE HOTEL AND YOU NEED A CAR TO GET TO THE SKI AREA OR INNSBRUCK.
GREAT LOCATION; HANS, GERMANY